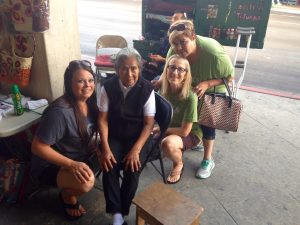 Photo above:  Gloria was healed instantly from deafness and a dislocated right shoulder while the team was ministering on the streets of Tijuana. God moved mightily and we saw many salvations, miracles and healings!  Go Jesus!!
At The Dwelling Place, our mission is to impart hope and purpose through the life changing message of Christ's love. It is our desire for people to experience God's Presence in every area of life. We believe this starts in our local community and reaches to the far ends of the earth through the support both local and global ministries.  We also encourage people to put their faith into action by participating in local outreaches and by going on various missions trips throughout the world.
And then he told them, "Go into all the world and preach the Good News to everyone." Mark 16:15 NLT
The world is waiting for us to bring the hope and love of Jesus to them! As we pour into others, God does a work in us and we are never the same!
Ministries we support
Upcoming Mission Trips!
Details coming soon!
For information send your e-mail to info@dwellingplace.us